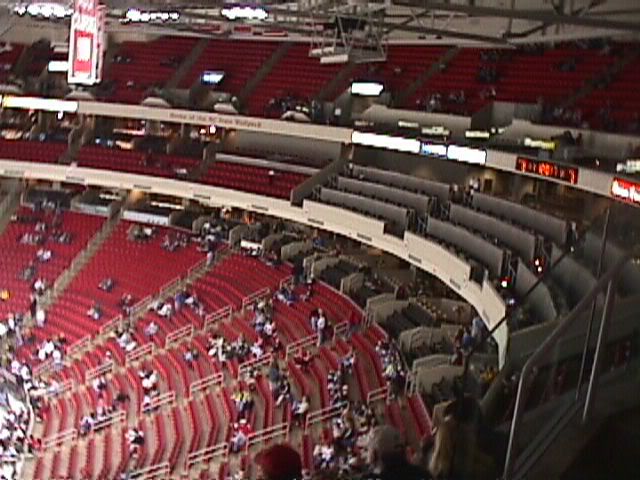 Some final thoughts regarding Carolina's win...

Obviously the fans that have remained by this team surely are overjoyed, and that's cool. But how is it possible, after all their defensive caterwauling, that I'm still able to open the paper, and on Page 3, read the following headline:

"Raleigh fans give hockey showdown the cold shoulder"

Keep in mind, this was the day after their Stanley Cup victory -- the hardest championship to win in all of sports.

One of the most interesting quotes came from an actual hockey fan, who said, "People need us to win the Cup in order for the interest to grow."

Planning on growing a large crop of fair-weather fans, are you Raleigh? It wasn't enough that the team had been to the finals twice in four years? What happens when you don't win it every time? What occurs when you need to spend a few years rebuilding, as all teams eventually do?

The question of fan growth is still being asked, even after a long and illustrious Stanley Cup run. It may not overshadow, but it's constantly there. It's a source of irritation to the legitimate fans that do reside in North Carolina and its surrounding areas, but all they can do is defend. The rest of the hockey world is waiting for the proof.

It's not anyone's right to maintain a NHL team in their particular city -- it's a privilege. And it makes it exceedingly difficult to convince on-the-fringe hockey fans (not Carolina ones, just general, potential hockey fans) that they should be supporting this league when questions are being asked about one of its now-elite teams. "Why should I follow the NHL, when the majority of Raleigh doesn't even care that they might win a Stanley Cup?" Do you have any idea how many times I've heard that? Do you realize how bad it looks and sounds?

Raleigh is in the spotlight now, and they had better produce, because talk is cheap. No one's asking for the NHL to replace basketball as the sport of choice. To do so would be extremely foolish. But when you win a major sports championship, and people are still asking where your fans are? How is the rest of the NHL supposed to respond to that? How are we to defend that to the critics? 30,000 fans coming out to a Cup celebration is a great start. But you had better work hard and show some legitimate results -- it's your duty to the rest of the league as Cup champions.

There's Hockey Country, and a Hockeytown. Right now, Raleigh -- the Stanley Cup champions -- barely qualifies as a hockey hamlet. They might want to start changing that. They were just given the biggest, shiniest reason in the world to start.